Rhodes Mini Bus is a newly established company offering a selection of transportation services on the island of Rhodes.
Starting from your arrival on Rhodes, Rhodes Mini Bus is there to arrange your transportation from the airport or port to your chosen destination.
Our services extend to offering our mini buses for all your transportation requirements, being classical tours, tailor made tours, evening outings, social events or anywhere else you may want to go or visit.
Whether you are only one person or a group of people, Rhodes Mini Bus will accommodate your requests.
Your safety and your comfort is our key focus…….
A company you can trust
A company that's reliable
Book with us!!
AIRPORT TRANSFERS
Arrival Transfer – Avoid the stress of public transport by pre booking Rhodes Mini Bus Services. When you land at Rhodes Diagoras Airport, your driver will meet you outside the arrival hall and escort you to your mini bus. You then sit back and relax on the drive to your hotel.
Departure Transfer – When leaving Rhodes, don't risk being late to the airport, instead pre book Rhodes Mini Bus Services to ensure your timely arrival to Rhodes Diagoras Airport. When your vacation in Rhodes is over, our driver will pick you up at your hotel and take you to the airport. You will travel by minibus and enjoy comfortable, reliable and convenient transportation.
Rhodes City Tour
Experience the highlights of Rhodes Town on a 3-hour self-guided sightseeing tour. Drive through the city and look at both Medieval and Modern Rhodes. Visit top attractions such as Monte Smith, Ancient Stadium & Acropolis of Rhodes and lastly enter by foot into the Medieval Town. After you have finished your explorations within the Old Town, Rhodes Mini Bus Services will be at the exit waiting to transfer you back to your Hotel.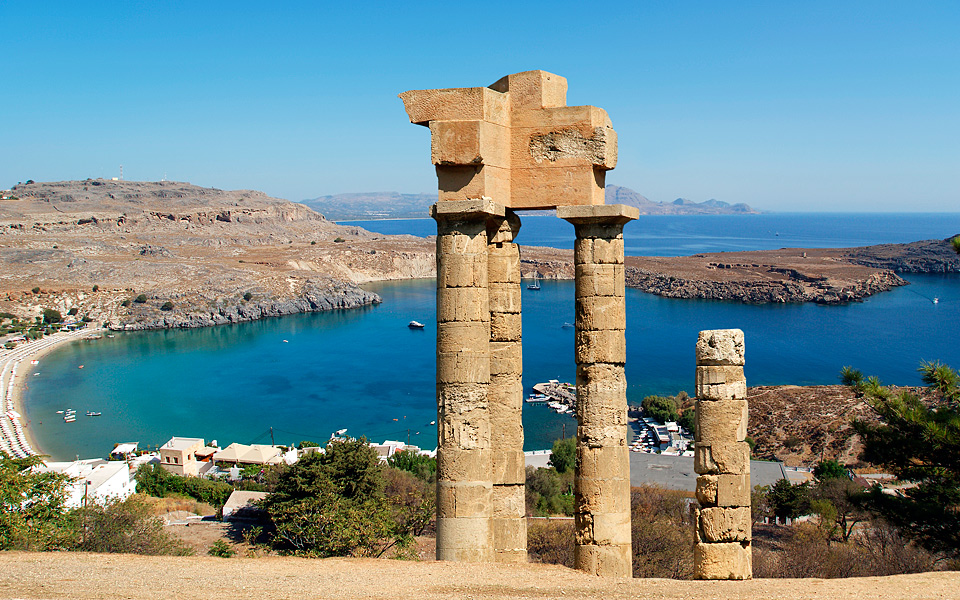 Lindos (The pearl of Rhodes)
The best way to discover Lindos at your own pace. Your first glance of Lindos is guaranteed to take your breath away. From the towering Acropolis to the whitewashed houses, the clear blue waters of the bay to the cobblestone pathways will entice you to enter "The pearl of Rhodes". Entering you will see the ornate houses, effervescent bars, cool cafes & appetizing tavernas. Taking the path up to the Acropolis you will witness one of the finest views in Greece.
This tour can be executed in both half day and full day versions.
Island Tour
A full day tour and an ideal way to see the many highlights of the island of Rhodes, you choose the highlights and Rhodes Mini Bus services will take you there. A variety of combinations can make up this tour, some prefer to focus on the archaeological interests others prefer cultural and a few a bit of both, Rhodes Mini Bus Services lets you decide, tell us your appeals and we will propose the route for you adding extra features that may interest you along the way. Places of interest: Ancient Filerimos, Ancient Kamiros, Butterfly Valley, Monolithos Castle, Kritinia Castle, Embona wine tasting, Traditional pottery making, Byzantine Monasteries.
Custom Made Tours
Create your own tailor made experience and discover Rhodes from your own point of view. Whether it will be a day soaking up the sun at the beaches around the island or a day uncovering the natural beauties, Rhodes Mini Bus Services will transport you comfortably and at your own pace.
Cruise Visitors
Do not miss a minute of the magic of Rhodes even though the island may be a temporary stop on your cruise ships itinerary. For the hours you have available, you can plan a tour with Rhodes Mini Bus Services to see the exquisite sites that has made Rhodes renowned.
Weddings
For the most important day of your life Rhodes Mini Bus Services will offer you and your guest's comfortable & reliable transportation to the venues of your choice. Multiple pickups for your guests can also be arranged. From tailor made services to transfers, Rhodes Mini Bus Services will take part in making your cherished wedding day unforgettable.
Please fill in the form below giving us all the necessary details about your transfer. We will check your inquiry and answer to you as soon as possible.
INQUIRY FORM